Real People. Real Stories. On Stage.
The People Tree creates a space for our community to share stories in a personal and meaningful way. Whether you are coming to tell a story or listen, you are welcome.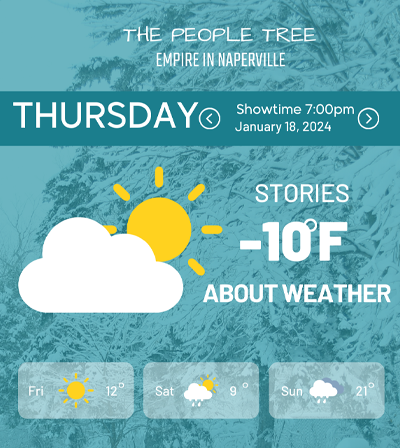 Thursday, January 18 | 7pm
The weather can affect your mood or even decide what you are going (or not going) to do on any given day. It can be pleasant, balmy, torrential, freezing, and blistering. Mother Nature has all the instruments in her orchestra, and she is ready to perform!
In 2015, after the tragic and unexpected loss of a neighbor, Rachna Prasad was compelled to bring her community together to connect in a deep and meaningful way.
She invited friends, family, and neighbors to her home and asked them to share personal/life experiences (and drink wine). Nobody had any prior storytelling experience, but everyone had a short story to tell. The group enjoyed sharing funny/silly/frivolous stories and listening, learning, and empathizing with each other.
Claire Dee loved the connection and the feelings stories evoked. After a few months, Rachna and Claire grew hungry for more stories, so went to a live storytelling show in Chicago. When they emerged from the show, they decided that Naperville was ready for its first live storytelling event.
In January 2017, that wish became a reality.
By stopping to listen to real stories of growth, realization, or transformation our audience grows stronger, more empathetic and sympathetic to those around them.
Support and grow incredible storytellers
Some people tell stories regularly on stage, while others have never performed a single story. To ensure the best and most engaging stories at the shows, potential storytellers submit a story outline for review by the Producers. While everyone has a story to share, we recognize that some people may need more help. Once a story is selected, we invite the storyteller to work directly with a Story Mentor and attend monthly workshops.
Who are the people behind TPT?
The People Tree is a passion project produced by four women who pour their hearts and soul into creating something special for their community.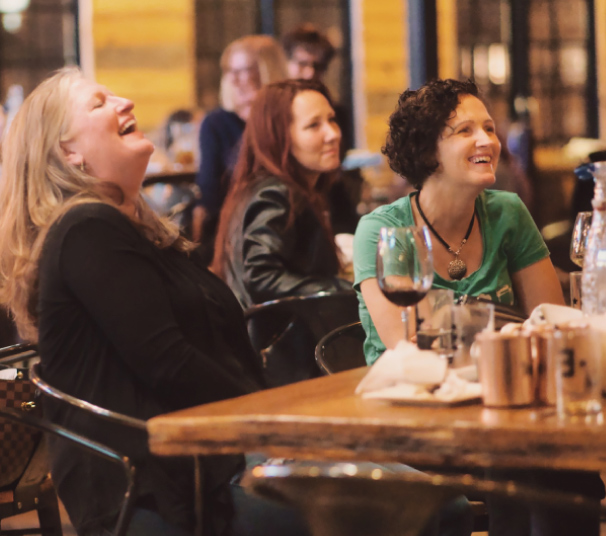 Initially, the hardest message to convey was that the show was created for adults sharing true stories in a cocktail bar and not kids sitting on the floor at the library listening to fiction. The local community quickly embraced all that The People Tree had to offer, and our monthly crowd soon grew to over 200 people.
Just as stories evolve, so has The People Tree.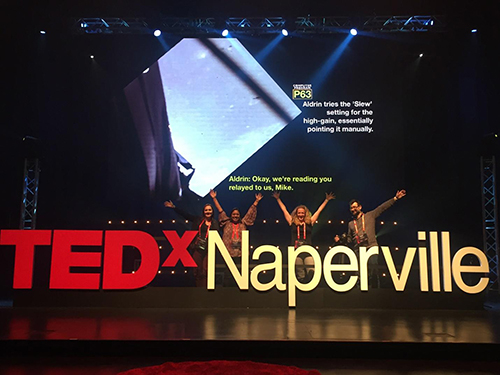 The People Tree worked with the late Scott Potter to create a series of engaging Micro-stories for TEDx Naperville.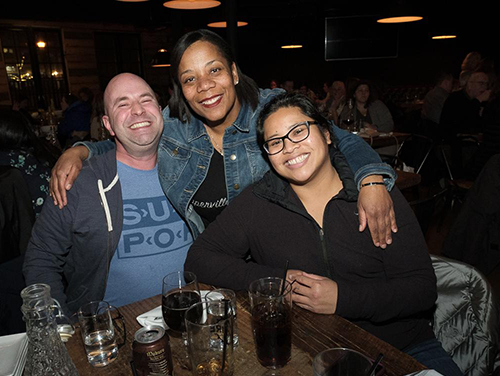 The People Tree's creative director Kat, moved to California. Improv workshops and High School storytelling workshops were added to the schedule.
The pandemic brought new challenges but also created the opportunity for monthly Greenhouse workshops and virtual 'one story' shows on Zoom.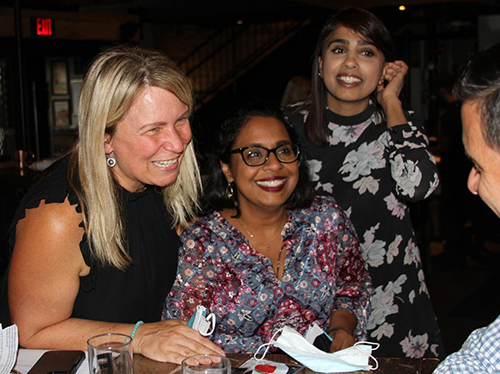 Claire moved to Virginia and continues to mentor Naperville storytellers. Rachna was joined by Erica Katz and Simi Krishnan, two wonderful and experienced storytellers on the Empire stage.
The People Tree created and launched Sprout: Youth Storytelling for Middle and High School students. Claire started an RVA branch of TPT.
A Proud story
teller community
The People Tree is proud of the storyteller community and audience that it continues to build – new relationships formed and old ones strengthened. We are so pleased that our audience keeps coming back, and almost every time, someone new is inspired to submit their first story outline for a future show!
Storytellers return often, and many say that The People Tree has the most attentive, passionate, and supportive audience of all of the shows they attend, What could be higher praise than that?


"To me, telling a story is all about connection. Without someone to listen you are just talking to yourself."
Sayard Bass - Storyteller
"The People Tree is a gathering place that nourishes authentic community….we all have lives worthy of recounting, and nothing brings people together more powerfully than shared narrative. Also beer."
Mike Rossi - Storyteller
"Being a storyteller with the people tree provides many amazing outlets for me. I love to make people laugh and when I share funny stories I love seeing people enjoy the absurdity of my life as much as I do. 
When I share an emotional or heartfelt story, I find a connection with people we never knew we had. Simply by opening myself and sharing my experiences, audience members recognize that they have felt the same way, they have shared the same sadness or hope, they are going through a similar journey. 
I know from experience that there are people who feel peace recognizing that I share a bit of their path, and because of that, they don't feel alone. I feel it as a teller and as a listener, and it's a connection that is one of the most rewarding of my life.
As a seasoned storyteller, I participate in workshops as much as possible, because: 
1) practice makes perfect, 
2) some of my best lines were inspired by feedback during workshops; but also workshops help my stage presence, confidence, ideas, and the impact my stories will likely have on the audience. 
In return, I try to provide feedback and ideas to newer tellers. Taking the time to listen to others' writing and provide encouragement only improves my skills overall. It is truly time well served.
Tips for being performance ready: relax, have only one glass of wine, and try to have fun. It might seem scary, but it's not life or death. It's just entertainment."
Clare Clayton - Storyteller
"The workshops help you practice your storytelling with the group and great constructive critique from all the producers."
Mini Dalawari - Storyteller
"My mentor helped me realize that I have stories within my story that are all beautiful and worthy to be told. 
The workshops helped immensely with fine tuning and positive feedback. It's also wonderful to be a part of the process for other speakers. "
Meg Dagnino - Storyteller